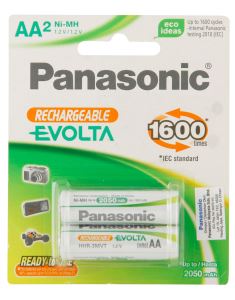 Product Description
Consistently high power, charge after charge
Panasonic Rechargeable nickel-metal hydride batteries are designed for high-power applications. The development of durable and reliable materials lets you reuse and recharge up to 1,600* times, which means you are not only saving money, but the environment as well with less wastage and fewer resources used.
Proven endurance in the Ironman® Triathlon
Three small robots powered by Panasonic Rechargeable batteries succeeded in swimming, cycling, and running a total distance of about 230km while participating in the Ironman Triathlon Course in Hawaii. The EVOLTA robots battled waves, wind, and punishing topography to complete the course in 166 hours and 56 minutes — testament to the endurance of our rechargeable technology. Pick up a pack today and see how this technology can lead to greater efficiency and improved performance in your household appliances.